>>NOTE: Scroll to Comments for additional resources<<
Free downloads and books from NavPress

"The discipleship that Jesus offers us as his gospel is a matter of following him and learning from him how to live our lives as though he were living them."
–The Cost of Cheap Grace
NavPress exists as the publishing arm of The Navigators, whose motto is "to know Christ, make Him known, and help others do the same". We serve to advance the calling of The Navigators by publishing life changing products that are Biblically rooted, culturally relevant, and highly practical. We seek out works that are for clear-thinking, disciplined followers of Christ who are looking to grow spiritually. NavPress provides life-transforming resources that will edify, instruct, and inspire.
Free Downloads »
RESTORE DISCIPLESHIP AT YOUR CHURCH

The Cost of Cheap Grace

 makes a bold, sweeping argument for restoring discipleship to its rightful place at the center of the church's mission and God's vision. Reading this book and applying its principles will reinvigorate your evangelism, revitalize your life, and restore world-changing power to the gospel.

Buy Now »
LET'S START MAKING DISCIPLES OF JESUS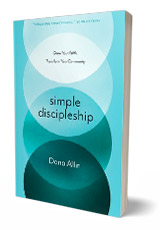 Simple Discipleship
 is the perfect resource for becoming a better disciple and making disciples. It offers a plan for discipleship that is tailored to your real life and your personality, and clearly pointed in the way of Jesus.
There is an assessment tool for each reader and person in your church, combined with an achievable, personalized discipling strategy. It simplifies discipleship so every follower of Christ can prioritize it.
Buy Now »