Rainy Season is already here in Thailand ...



Jesus said, "Go and

make disciples, baptize them, teaching them to observe what I have commanded" and then he closes with his promise that he will be with us "to the end of the age". (Matthew 28:20).

This command to teach and make disciples is critical. We work with people who meet Jesus when they are in a desperate place. They have serious trauma stories and need a lot of healing. Some of them are stunted, even disabled, because they've not had the right opportunity to grow and mature. When I think of them, I consider them not just baby Christians, but baby Christians in the intensive care unit.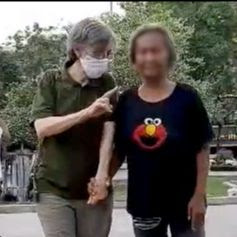 https://mcusercontent.com/d48e9a1af502d67d1381612b6/images/a451341c-ac2b-75d5-dc6b-2d35322606f1.jpeg" width="237"/>This past month, I had the opportunity to walk with a woman who is in her mid-fifties. She walks the main streets and sells her body, and suffers with depression also. She loses her balance easily, falling. She is a good example of someone who needs to meet Jesus and when she does, discipleship will probably be a long haul.
We do our best to consider the whole person, their spiritual needs, psychological issues, physical health and family situation. The care is complex and involved.
This kind of care is good but I can lose my way amid these vital details. I forget that Jesus is the heart of this work. That He is the way. He is what is true and vital. These other issues we consider are needful, but only with Christ present. I am not here to do good, or to solve world problems. I am here so people can learn His commands, the command to love, and know beyond a shadow of a doubt that He is with us to the end of the age.
Here in this Bangkok community, our On Nut neighborhood where The Well and Connect Center have been rooted, we are building a church without rooms. We have a growing body of believers who are intentional in their relationships, ready to learn this way of love and teach it to other disciples. I am on a new quest reminding myself of this.
I invite you to join me. There are particular needs all around us; your people might need compassion, provision, care, or service. But the big need at the center is for people to learn to trust Jesus and His love for them, and follow his teaching to love one another.
So I have some new discipleship methods these days. 
I will ask the people that I spend time with, "Who are you?" and they will answer me. "I am His daughter." or "I am His little sheep."  

I am committed to share Scripture everyday with someone, whether it's a "sit down and read together" or a verse remembered that fits with our conversation.

I have a plan to be ready to drop everything to pray, at any time with anyone.

I will model a grateful heart and teach gratitude, in order to nurture thankfulness in my community.  

I will be sure that whoever I meet, whatever their need, their health, their financial situation, their family crisis or safety issue is, that we will learn together to work from the truth that we are loved and not from a place of fear. "For God did not give us a spirit of fear, but of power, of love and a sound mind." (1 Timothy 1:7)

Your methods will be different from mine, but I hope that you will stop and think on what methods might work for you in your own quest, and that you will join us in this new commitment to be a light in this dark world.  (I John).  Please pray for us, that we will stay focused and be sure that Jesus is center to everything that we do.

Love,
Judy (and Jim, too) Larsen